Amazon Scraping API
A powerful and reliable data collection tool for scraping Amazon pages
Built for scalability and high bandwidth needs
Engineered for maximum uptime, high performance, and low response time
Robust proxy network to ensure high request success rate
Scraping Amazon: How to Scrape using API
Amazon data provides invaluable insight into customer behavior across a wide range of countries: Companies can use this data to monitor competitors, perform search engine optimization, analyze and predict market trends, and more. Here's the catch: Collecting Amazon data is tricky, with various anti-bot measures stopping your scraping efforts. The answer to this problem is Infatica Scraper API – a fast, reliable, and easy-to-use data collection suite powered by Infatica's proxy network.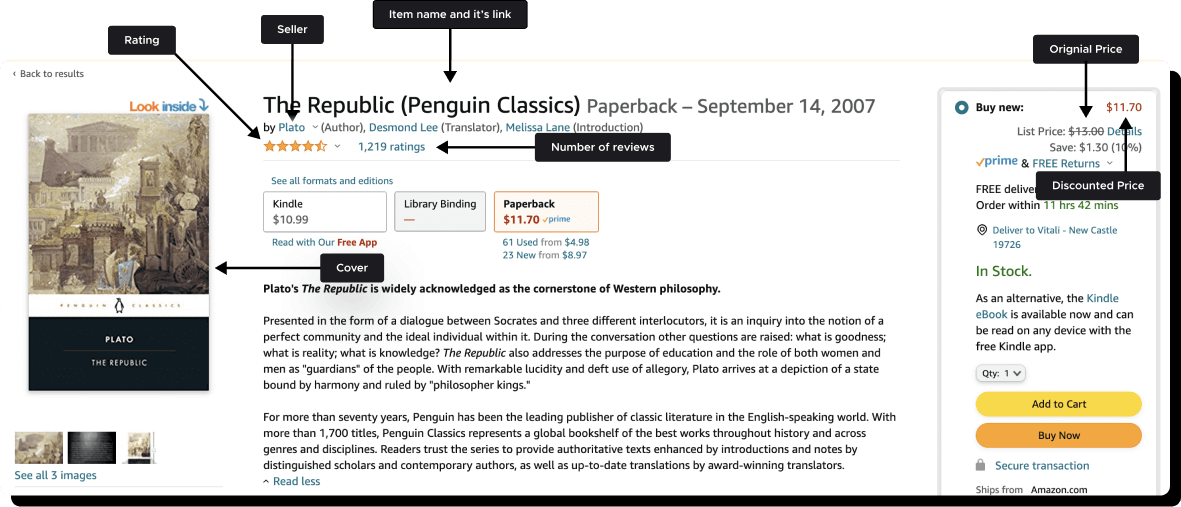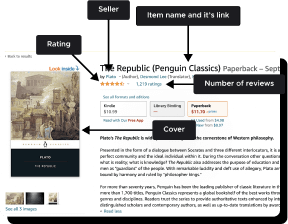 What is Amazon Scraping?
Web scraping in general means automated collection of data. The term automated is key here: Technically, saving each Amazon page manually does constitute data collection, but this process shares neither upsides nor downsides of a full-blown web scraping operation. Scraping Amazon can be performed with various tools and at different scales, but the end goal is the same: Use this data to generate value for your business or other people.
Infatica API Features
Amazon, the world's go-to place for online shopping, is home to all kinds of valuable customer data: product reviews, detailed product descriptions, pricing data, search results, and much more. Data is the most important asset of any company — and Amazon's data provides a lot of valuable insight into customer behaviour. Many businesses rely on Amazon's data to create their products — to do that, they need a reliable way of accessing this data. Infatica Scraper is a great data collection tool for this job: Engineered with speed and reliability in mind, it can crawl all types of Amazon pages to retrieve their data for you. Thanks to Infatica's robust proxy network, Scraper can easily avoid usual web scraping roadblocks: CAPTCHAs, request blocks, and blacklists.
Collect data from any Amazon Page
This platform offers all sorts of data you might be interested in, with Amazon Search, Amazon Product, Amazon Price, and Amazon Reviews pages being particularly popular. Infatica Scraper supports all Amazon data types — this provides you with a more complete picture of customer behaviour, allowing you to better understand and predict e-commerce trends, create marketing strategies, perform SEO, and much more.
Easy-to-use yet powerful scraping API
Infatica Scraper can also be used as the foundation for your custom web scraping solutions: Our API is suitable for both small- and large-scale projects. Use Infatica Scraper API if you need even more control over your data collection workflow. Getting started with the API and sending your first call is easy: Just obtain the token and perform a simple cURL request.
Stay anonymous & bypass restrictions
Intatica Scraper is powered by Infatica's proxy network, ensuring that the requests you send have a high success rate. Amazon protects its data with all sorts of measures (CAPTCHAs, request blocks, and blacklists) but proxies allow us to bypass them without triggering anti-bot systems. Infatica Scraper saves your time as you don't have to spend resources troubleshooting scraping issues anymore.
Features of our advanced data collection suite
Millions of proxies & IPs
Infatica Scraper utilizes a pool of 35+ million datacenter and residential IP addresses across dozens of global ISPs, supporting real devices, smart retries and IP rotation.
100+ global locations
Choose from 100+ global locations to send your web scraping API requests — or simply use random geo-targets from a set of major cities all across the globe.
Robust infrastructure
Scrape the web at scale at an unparalleled speed and enjoy advanced features like concurrent API requests, CAPTCHA solving, browser support and JS rendering.
Free and premium options
Are you here to test the API without any commitments? Sign up for our Free Plan. If you ever need more advanced access, premium pricing plans start at $19.99 per month.
What Customers Say about us
Our residential proxy users come from different backgrounds and create both small- and large-scale projects, utilizing millions of real IPs. Whatever your project may be, we would be pleased to have you as our client.
"I tried many providers of mobile proxies, I chose infatica as the favorite, because the price is adequate, the reviews are good and they showed themselves well during the test period, I recommend it for cooperation."
Explore More Reviews
I use proxies mainly for parsing
I use proxies mainly for parsing site positions, collecting the necessary information from sites in large quantities for analytics them. I needed fast resident proxies, so I ordered them from Infatica. I have used many other services before, but Infatica was more liked for its interface and fast proxies. It is evident that they are doing their best to improve their services. Yes, there can be some moments but they can be quickly solved with technical support.I can safely recommend them.
Affordability and quality
Speaking about prices, everything is democratic, it all depends on which tariff to choose. I think that this is the ideal and safe option for work. Quality is at a high level. I can recommend Infatica due to its stability and speed of work. All the problems that were - technical support helped me to solve. Special thanks to the manager Alina for her help in paying the tariff (there were problems on my part)
This proxy provider is a reliable one
Hello to all lovers of quality service! Two months ago, I had a chance to take a proxy here for myself. In general, I was satisfied! Technical support answered all my questions. I was very pleased with the proxy itself; everything worked without any interruptions. It fits perfectly for my needs. Mainly I use for parsing Google, Amazon, YouTube and etc. Great for using A-Parser. Infatica also has a new Scraping API, haven't tried it out yet, but I'll try it out and update my review in the future.
Nothing is hidden, proxies are affordable
The first thing that attracted me is the site. I have never used thing like this before, and it helped me to put things in order. I chose their Mobile Proxy service and like it! Time will show if there are any minuses.
Infatica keeps us excited with their continuous updates and add ons.
If you want to get both residential and mobile proxy service, I believe, Infatica is the place to visit. Why? Because it has the best ROI and will give you a chance to anonymously and authentically gather info about the content and strategy from other marketers. We use Infatica to view PPC assets and study final destination URLs. We've also employed Infatica's proxies to help us by keeping bots away.
I tried many providers of mobile…
I tried many providers of mobile proxies, I chose infatica as the favorite, because the price is adequate, the reviews are good and they showed themselves well during the test period, I recommend it for cooperation.
We use proxies for marketing research
We use proxies for marketing research. Infatica proxies solve our needs in full. Thank you
After 5 months of using their proxies
After 5 months of using their proxies, I have not noticed any deterioration in success rates. Great product at the moment
Very good scraping success rates
Very good scraping success rates, including when we crawl social media. Quick replies from technical support
Let us outsource your scraping!
Not sure if you want to gather data on your own? We will do this job for you using Scraper. You will get relevant, valuable, perfectly structured, and easy-to-apply information without any effort! Simply contact us and we will begin working on your project.
Contact Us
Use Scraper by yourself
Willing to be in charge of the process? No problem! Use Scraper to get the best results.
Commitment-Free Trial
Scraping solutions come in all shapes and sizes, so you may see a myriad of software when searching for your next web scraper. We believe that Infatica has the most to offer as your user experience isn't limited to technical factors like modular selector systems – it's also the round-the-clock support, the wide choice of geo-locations, the ease-of-use, and more. Start a commitment-free trial to try these benefits for yourself.
Trial request count: 5,000 requests. Trial duration: 7 days.
1
Share your contact details with us.
2
We'll send you a trial account login.
3
Try Infatica. Pay only if you stay.
Start your Free Trial
Frequently Asked Questions
Scraper works with a large variety of countries and Amazon domains. Most importantly, it also offers the ability to select the country/domain combination manually, allowing you to create custom requests from select countries using geolocation.

Scraper is engineered with scalability in mind and can handle various large-scale projects. If you're finding the current rate limit unsuitable for your scraping needs, please contact our support team about how we can adjust it.

Scraper users get access to all sorts of Amazon data: reviews, product descriptions, price data, search results from Amazon, and more.