Proxies
eBay Scraper – eBay Product Data Scraping
Infatica Scraper API is a powerful and reliable data collection tool you can use to scrape eBay. Collect eBay data and improve your product performance.
eBay Data Scraper
A powerful eBay scraper can take your e-commerce business to the next level: It provides a surefire way to collect data which you can later use for market research, marketing, search engine optimization, and other areas. This is how Infatica Scraper API can help you: Using our industry-level data extraction tool, you can scrape eBay reliably and at an affordable price.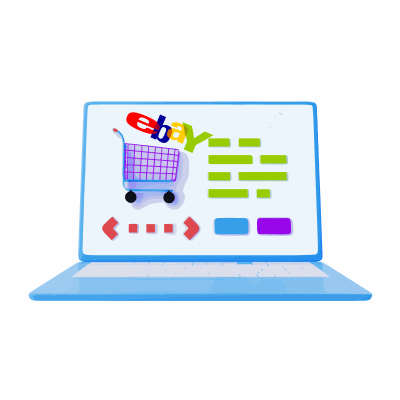 About eBay.com
eBay is one of the world's leading e-commerce platforms. With 150 million active users and 19 million seller accounts, eBay has created an active e-commerce community, whose members can easily buy and sell goods and services to each other.
Each transaction is a vital component of the platform's network and all this data can prove to be invaluable for your next e-commerce project. Infatica can help you access it – sign up and try Infatica Scraper API today!
Scrape One of The Largest e-Commerce Shops
Market analysis
Gain a better appreciation of customer behavior, seller feedback score, and demand. Monitor product descriptions and product details to track competition and make educated guesses about future trends.
Lead generation
Find prospective clients from eBay search and other publicly available tools.
Search engine optimization
Analyze performance of your product across relevant keywords in search results from different search engines.
Price monitoring
Find the optimal price range for your clients and create a better pricing strategy based on eBay product data.
Stay Anonymous While Crawling eBay
eBay invests into protection systems that limit third-party scrapers from accessing eBay data. The key to solving this problem is staying anonymous – and Infatica Scraper API's proxy network is perfect for that. Avoid IP address bans, request blocks, and CAPTCHAs during scraping eBay.
Solution for Your Data Collection Needs
Scrape eBay with ease
Each web scraper relies on the website's HTML layout to remain unchanged – this way, the bot knows where, say, product URLs can be accessed. However, eBay is always changing its site structure, rendering third-party scraping solutions obsolete. To keep your web scraping pipeline operational, you'll need to fix these errors manually.
Infatica Scraper API lets you focus on more interesting stuff – and we'll handle these errors, keeping our tool up-to-date with eBay's page source. With Infatica Scraper API, each data point is collected reliably!
No CAPCTHAs – only data
Data from eBay isn't that easy to get to: Tech companies use DDoS protection systems like Cloudflare to significantly limit automated access. This is a major problem for all third-party web scrapers: Upon detection, their IP addresses and requests are banned, which breaks the entire data collection pipeline.
With Infatica Scraper API, you can reliably avoid detection and CAPTCHAs: Our tool uses Infatica's own residential proxy network, which provides residential IP addresses. This way, eBay's anti-scraping systems see your bot as a real user from the country of your choice.
Made for home and power users
There are all sorts of eBay scrapers: browser extensions, standalone apps, software libraries, and so on. These tools differ by factors like price, complexity, functionality, etc. – and here's the important question: How to find the right tool for extracting data?
Infatica Scraper API is designed to be the best fit for a company of any size: Whether your project is small- or large-scale, you can use our tool to extract data from eBay's web pages. Just input the target URL to download the scraped results and save them in JSON format or Excel format.
What Customers Say about us
Our residential proxy users come from different backgrounds and create both small- and large-scale projects, utilizing millions of real IPs. Whatever your project may be, we would be pleased to have you as our client.
"I tried many providers of mobile proxies, I chose infatica as the favorite, because the price is adequate, the reviews are good and they showed themselves well during the test period, I recommend it for cooperation."
Explore More Reviews
I use proxies mainly for parsing
I use proxies mainly for parsing site positions, collecting the necessary information from sites in large quantities for analytics them. I needed fast resident proxies, so I ordered them from Infatica. I have used many other services before, but Infatica was more liked for its interface and fast proxies. It is evident that they are doing their best to improve their services. Yes, there can be some moments but they can be quickly solved with technical support.I can safely recommend them.
Affordability and quality
Speaking about prices, everything is democratic, it all depends on which tariff to choose. I think that this is the ideal and safe option for work. Quality is at a high level. I can recommend Infatica due to its stability and speed of work. All the problems that were - technical support helped me to solve. Special thanks to the manager Alina for her help in paying the tariff (there were problems on my part)
This proxy provider is a reliable one
Hello to all lovers of quality service! Two months ago, I had a chance to take a proxy here for myself. In general, I was satisfied! Technical support answered all my questions. I was very pleased with the proxy itself; everything worked without any interruptions. It fits perfectly for my needs. Mainly I use for parsing Google, Amazon, YouTube and etc. Great for using A-Parser. Infatica also has a new Scraping API, haven't tried it out yet, but I'll try it out and update my review in the future.
Nothing is hidden, proxies are affordable
The first thing that attracted me is the site. I have never used thing like this before, and it helped me to put things in order. I chose their Mobile Proxy service and like it! Time will show if there are any minuses.
Infatica keeps us excited with their continuous updates and add ons.
If you want to get both residential and mobile proxy service, I believe, Infatica is the place to visit. Why? Because it has the best ROI and will give you a chance to anonymously and authentically gather info about the content and strategy from other marketers. We use Infatica to view PPC assets and study final destination URLs. We've also employed Infatica's proxies to help us by keeping bots away.
I tried many providers of mobile…
I tried many providers of mobile proxies, I chose infatica as the favorite, because the price is adequate, the reviews are good and they showed themselves well during the test period, I recommend it for cooperation.
We use proxies for marketing research
We use proxies for marketing research. Infatica proxies solve our needs in full. Thank you
After 5 months of using their proxies
After 5 months of using their proxies, I have not noticed any deterioration in success rates. Great product at the moment
Very good scraping success rates
Very good scraping success rates, including when we crawl social media. Quick replies from technical support
Infatica's Features
Millions of proxies & IPs
Tap into our extensive pool of 35+ million datacenter and residential IP addresses across dozens of global ISPs, supporting real devices, smart retries and IP rotation.
100+ global location
Choose from 100+ supported global locations to send your web scraping API requests or simply use random geo-targets — supporting a series of major cities worldwide. Infatica's 1 Gbps bandwidth enables web scraping at the largest scale.
Rock-Solid Infrastructure
Scrape the web at scale at an unparalleled speed and enjoy advanced features like concurrent API requests, CAPTCHA solving, unlimited post metadata, browser support and JS rendering.
Free and premium options
Are you here to test the API without any commitments? Sign up for our Free Plan. If you ever need more advanced access, premium pricing plans start at $19.99 per month.
Use Scraper by yourself
Willing to be in charge of the process? No problem! Use Scraper to get the best results.

Commitment-Free Trial
Proxies come in all shapes and sizes. When shopping for anonymous USA proxies, different providers may catch your eye. We believe that Infatica has the most to offer as your user experience isn't limited to technical factors like raw IP count – it's also the round-the-clock support, the wide choice of geo-locations, the ease-of-use, and more. Start a commitment-free trial to try these benefits for yourself.
1
Share your contact details with us
2
We'll send you a trial account login
3
Try Infatica. Pay only if you stay.
Start your Free Trial
Frequently Asked Questions
Most tech websites, including eBay, introduce different kinds of protective measures to limit third parties from scraping their data. Although eBay does offer an API, it has significant limits. This forces many users to switch to solutions like Infatica Scraper API, which allow you to build a more powerful data collection pipeline.

xAs a popular e-commerce platform, eBay offers large volumes of structured data. Its usefulness depends on your ability to analyze it properly and make it actionable: Then, you can use it to build price aggregation platforms, perform search engine optimization, create brand protection and marketing strategies, conduct academic and adtech research, produce uptime and performance services, ensure corporate data protection, and more.

There are several types of tools you can use to collect product data, ranging from simple to complex: visual scrapers (in form of browser extensions) with graphical interfaces; industrial-level commercial solutions like Infatica Scraper API; and open-source libraries (e.g. pyspider) that can lay the foundation for your custom web scraper

Infatica Scraper API works with a large variety of countries. Most importantly, it also offers the ability to select the country/domain combination manually, allowing you to create custom requests from select countries and access publicly available data using geolocation.

The most popular geolocations include: the United States, Germany, the Netherlands, France, Russia, Ukraine, India, Turkey, Poland, China, Brazil, Saudi Arabia, Indonesia, and Vietnam – and the full location list is much bigger.

Longer answer: See the details in our overview of web scraping legality.

Shorter answer: Generally, U.S. courts agree that data collection is legal if said data isn't simply reposted to another platform without seeing a meaningful change. If you want to scrape data from eBay, make sure that the collected information is used to generate new value for the end user (e.g. via a price aggregation platform.)