Infatica Mobile Proxy Documentation
Infatica account registration​
info
To begin with, you have to register on the Infatica website, purchase a Mobile Proxy plan or Trial period, and create proxy lists to work.
To create an account on Infatica, click the "Log in" button in the upper right corner, then click the "Create Account" button.
Enter your first name and last name, email, and create a password. Click the "Sign Up with email" button to confirm. You can also sign up via Facebook or Twitter.
info
After registration, you will be redirected to the Dashboard, where you can purchase a Mobile Proxy plan or Trial period and create proxy lists to work.
Purchase a Mobile proxy plan​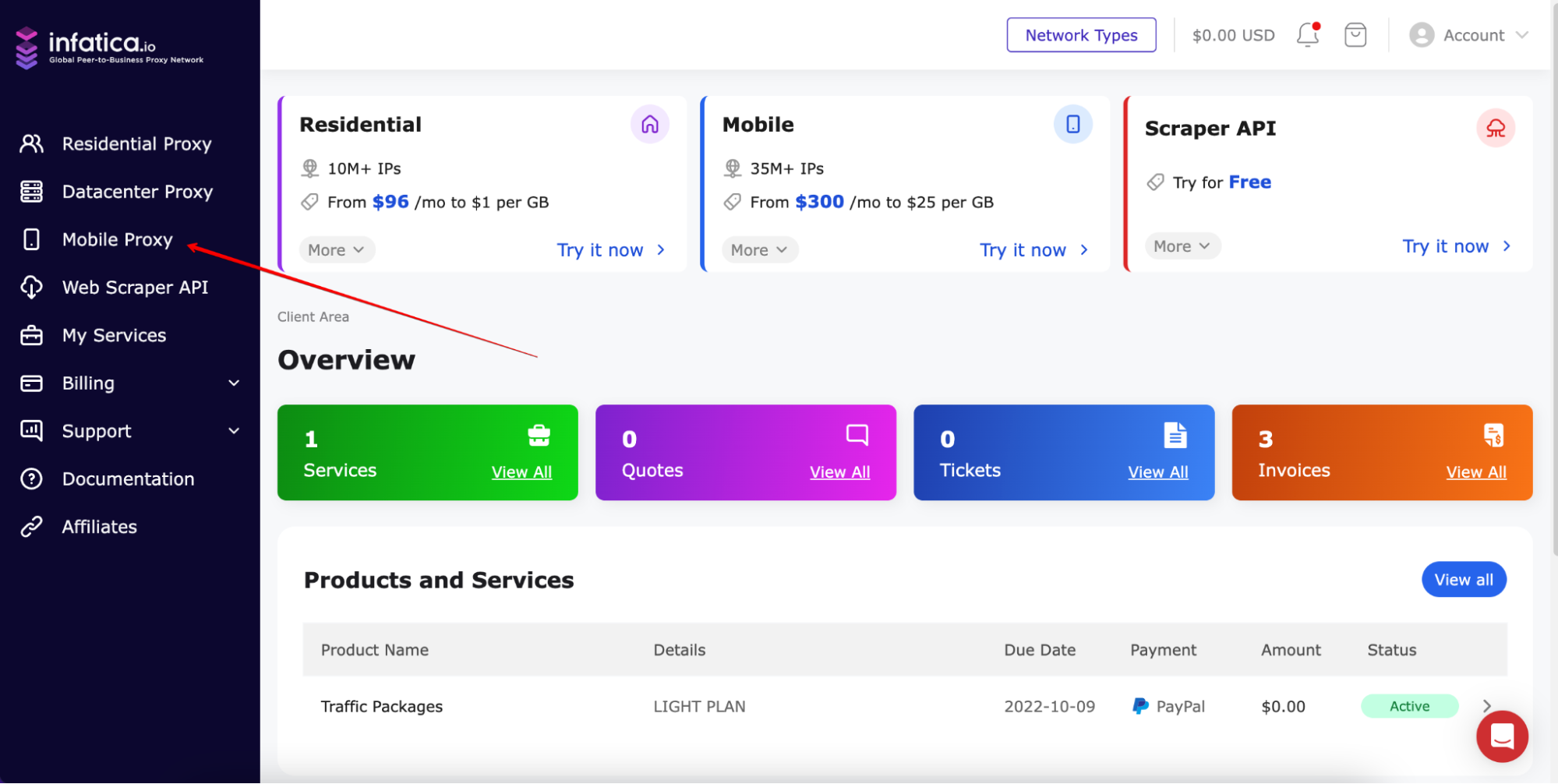 info
To test Mobile Proxy, you can purchase a three-day Trial for only $1.99 with 100 MB of traffic. Also, you can buy the plan you want immediately, click the "Buy now" button.
To do this, go to the Services section in your account, select Mobile Proxy and click Get Trial or Buy now button.
info
After that, you will be redirected to the Billing section, click the "Proceed To Checkout" button to purchase, then choose a payment method and click Complete order.
You can pay with any card or PayPal.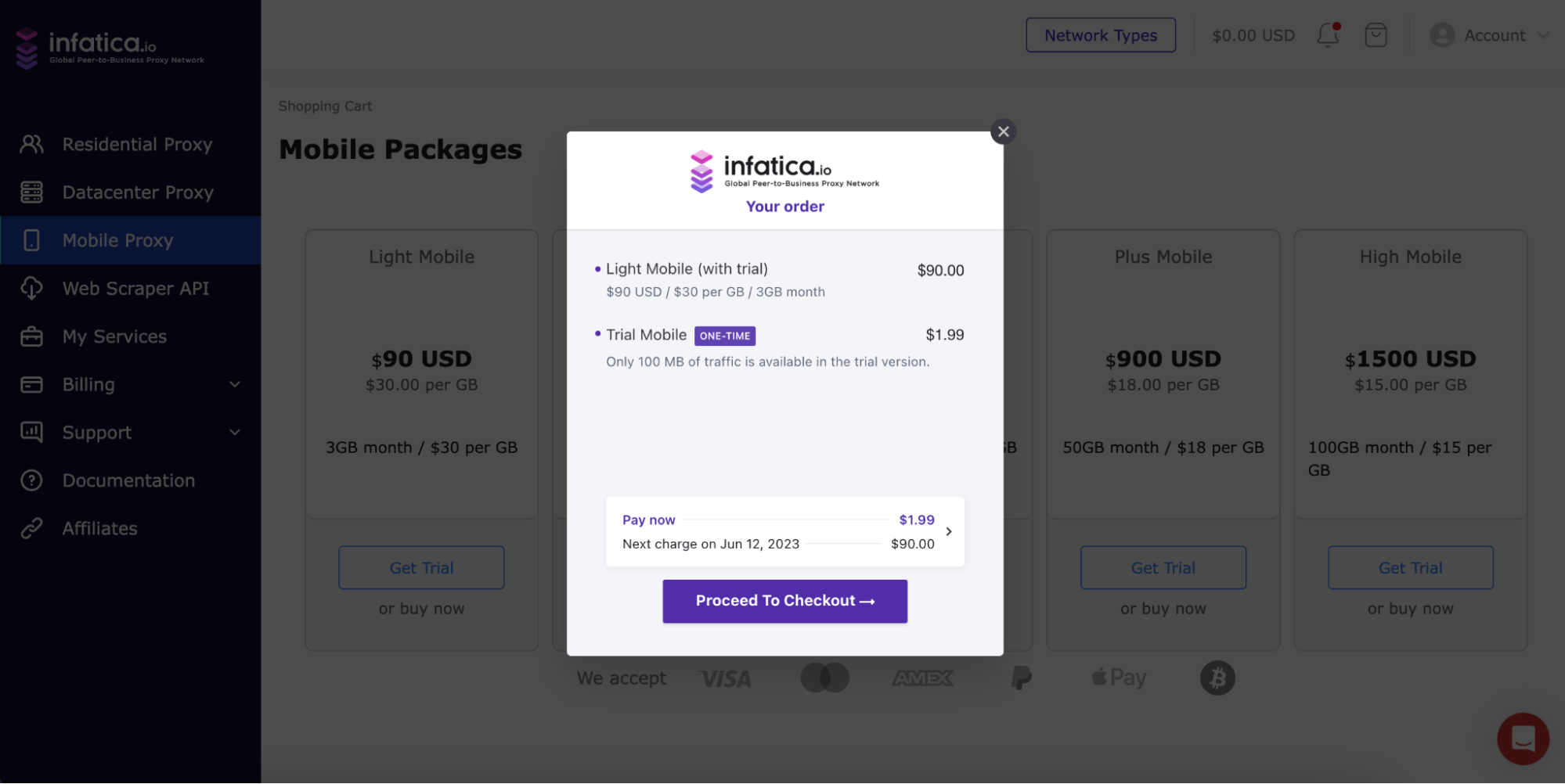 How to create and work with a Mobile Proxy list​
On the My Services section, click on your active Mobile Proxy Plan and you will be redirected to the Proxy list generation page.
On the proxy list generation page, you will see general information about your Proxy plan, in the middle, you will see active proxy lists after they have been created.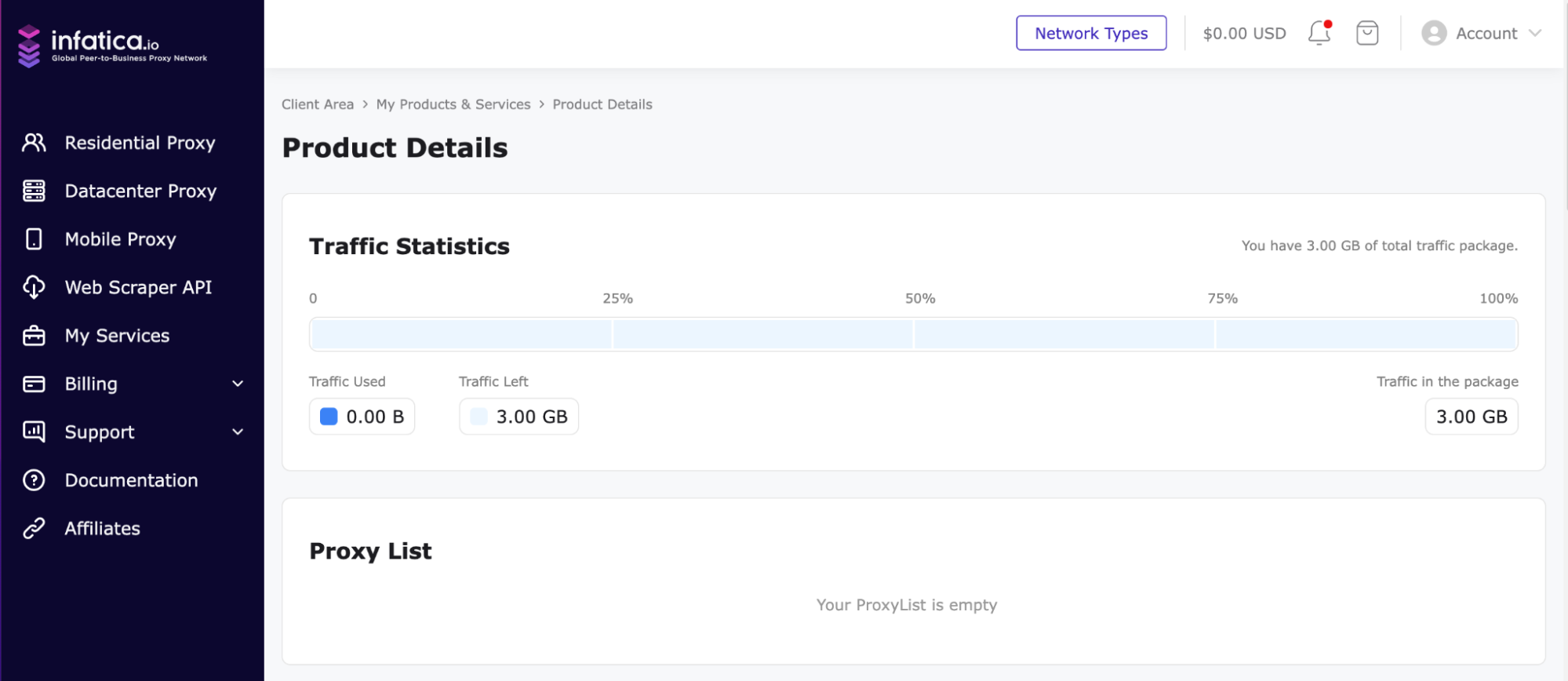 Next, let's move on to the fields for generating a proxy list and describe them in more detail.
Name Of The List​
The default name is List-World Mix, however, you can specify any name for your proxy list for quick identification.
The Authorization​
This field contains two authorization options: login/password and IP whitelist.

If you select the login/password authorization option, you will see below the areas with the provided login and password for your proxy list.
If you choose the IP whitelist authorization option, enter the IP address, subnet, or multiple IP addresses separated by a comma in the fields below.

Location Preset​
You can select World Mix, Europe, Asia, North America, Latin America and the Caribbean, Africa, Oceania, or Custom location in this field.

If you select a Custom location, you can additionally select Region, Country, City, and ISP.
Click and select Custom in the Location preset and then you can select Region, Country, City, and ISP.
Rotation period​
info
You can choose between different proxy rotation options: timed rotation (every 5/10/15.../60 minutes), rotation with each request, or sticky. Proxies are available for a set period of time after which they are rotated. If a proxy becomes unavailable, it may be rotated earlier than you specified.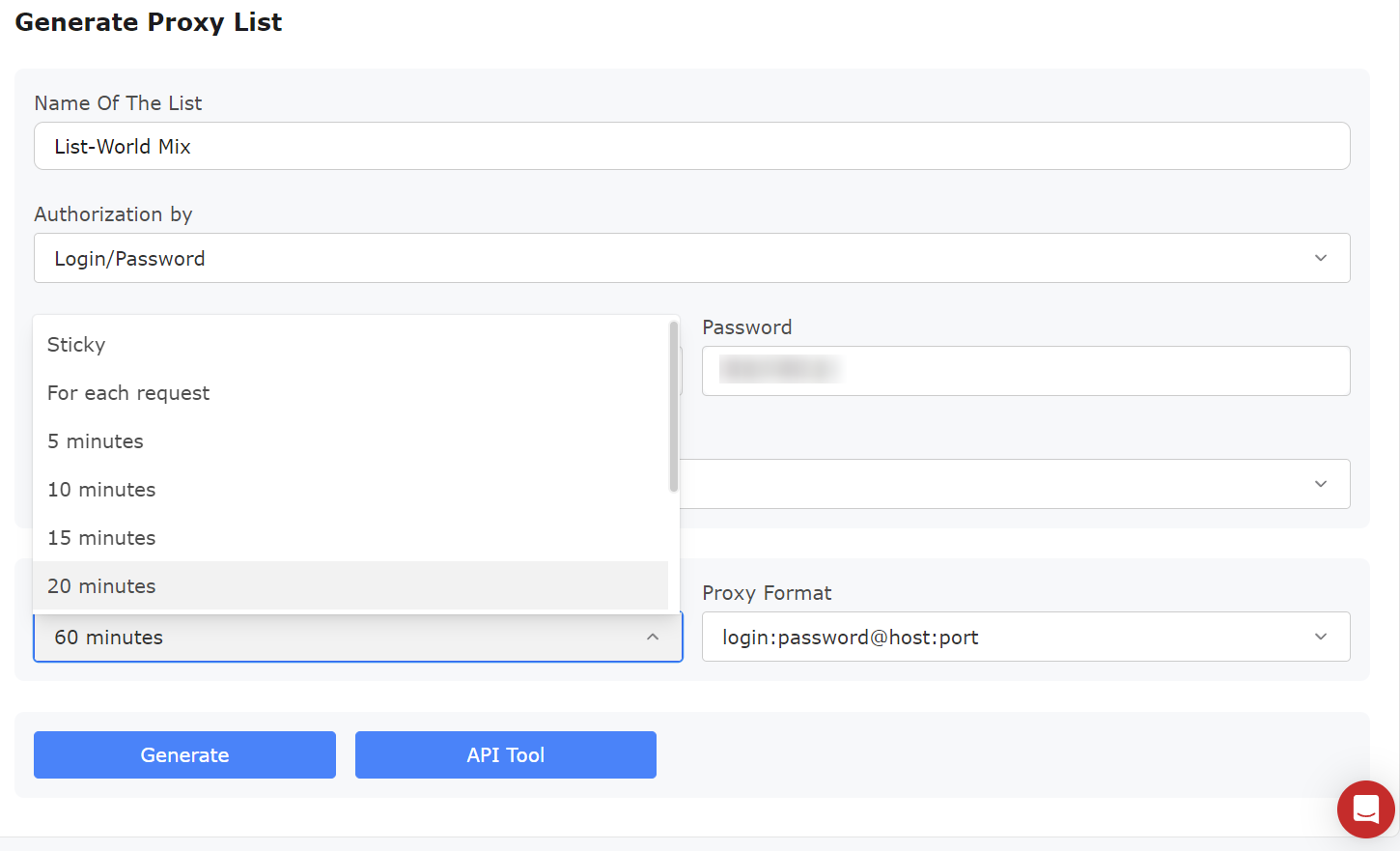 Proxy format/protocols​
Here you can select proxy formats
login:password@host:port
host,port,login,password
host:port:login:password
As well as HTTP or SOCKS5 protocols.
http://login:password@host:port
socks5://login:password@host:port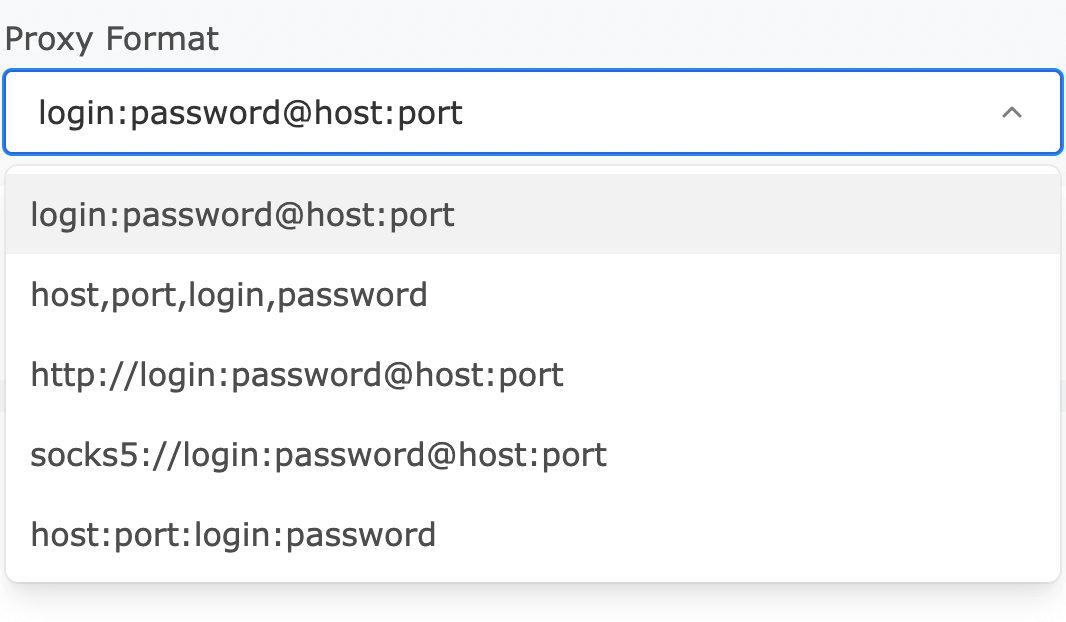 After all the settings, click the Generate button and your proxy list will appear at the top right.
Traffic usage​
By plan/subscription:​
Below you will see statistics on proxy traffic usage.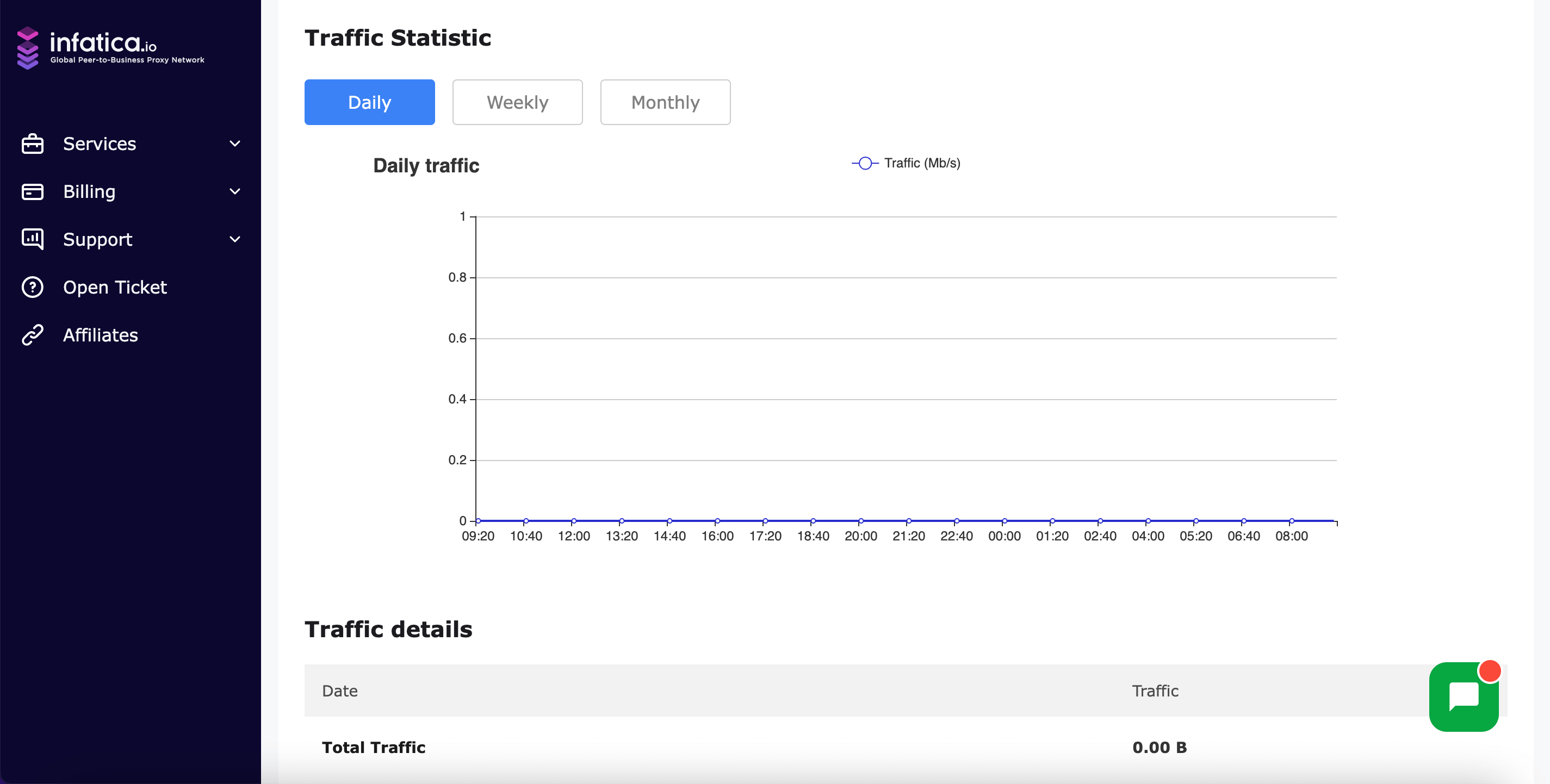 By proxy list:​
Click on the three-dot button to the right of the proxy list name and click on the Traffic button. In the link that opens in a new window, you will see statistics on traffic consumption in the current proxy list by days.
And at the very bottom, you will see a video guide on how to use proxies and notes on how to use them.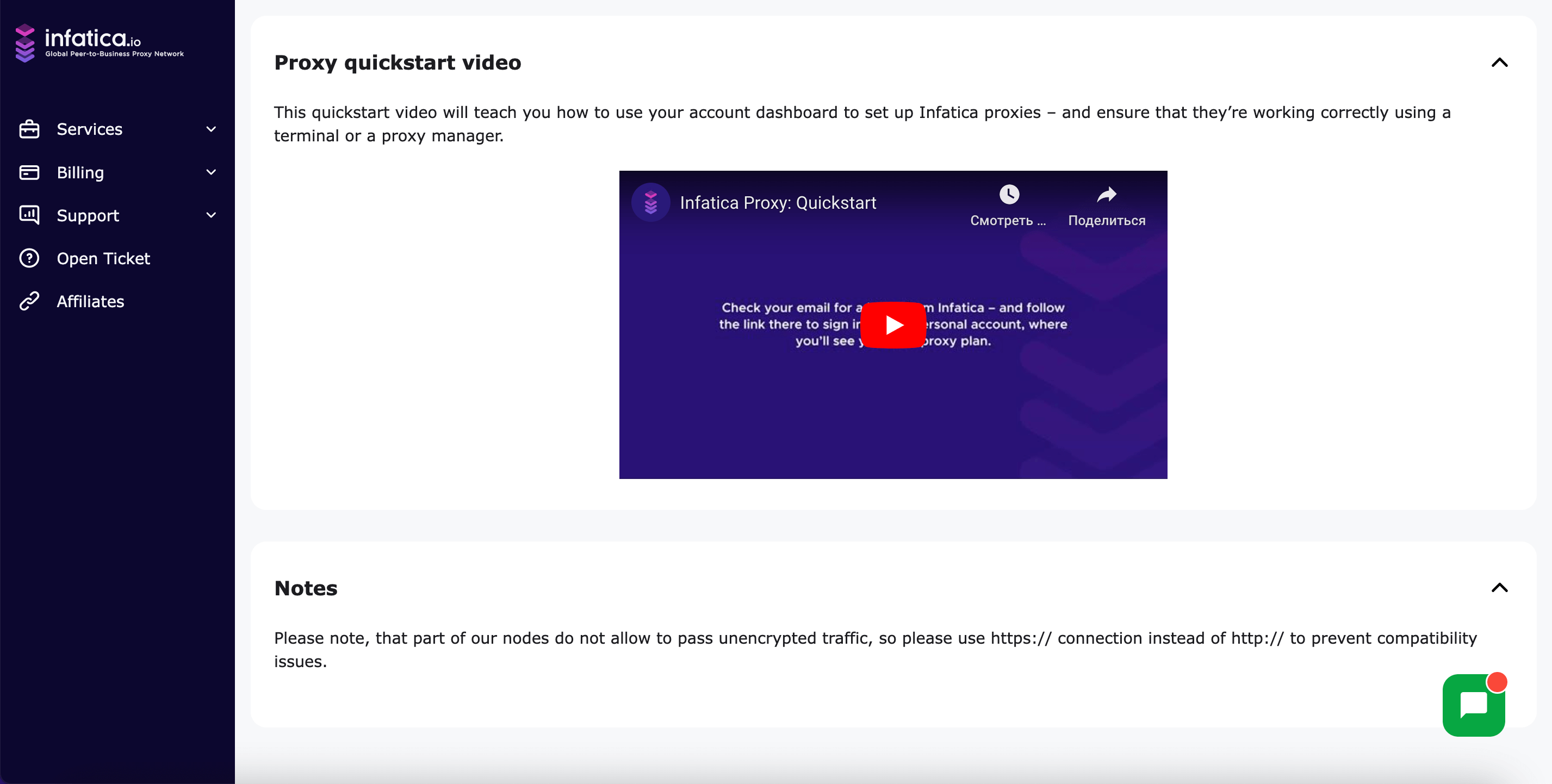 Now, let's go to the proxy list and open it. The proxy list has up to 100 ports that you can work with at the same time. You can use Infatica's Mobile Proxies with any software or in your browser.
Attention:
For simultaneous requests, use different ports.
Important note: Each IP address port corresponds to a unique IP address (e.g. 123.45.6:10005 and 123.45.6:10006 are different IPs).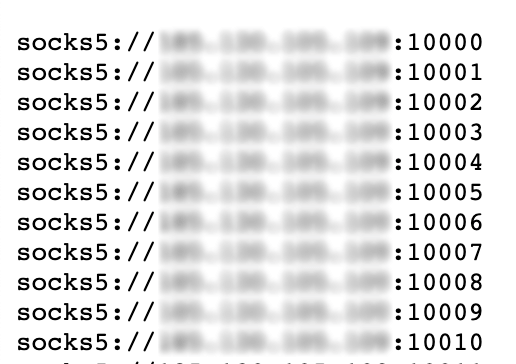 IP Whitelist authorization​
Note:
If you create a proxy list and use IP Whitelist authorization, the proxy list will have the format Host:Port.
danger
IP whitelists have priority over regular proxy lists, which causes incompatibility between requests from different lists. For example, the 123.123.123.123-List-ByIP-US whitelist has the highest priority. If you're sending requests from 123.123.123.123 to a different regular list, it will be ignored and the requests will default to using the 123.123.123.123-List-ByIP-US whitelist.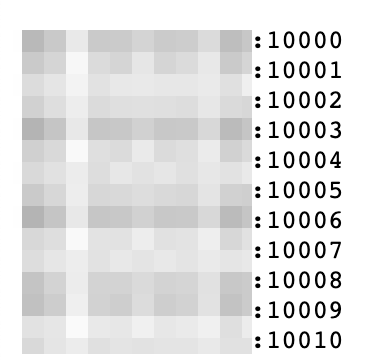 Delete proxy list​
To delete a list of proxies, click on the three dots located on the right side of the list you wish to delete, and then click the 'Delete' button.