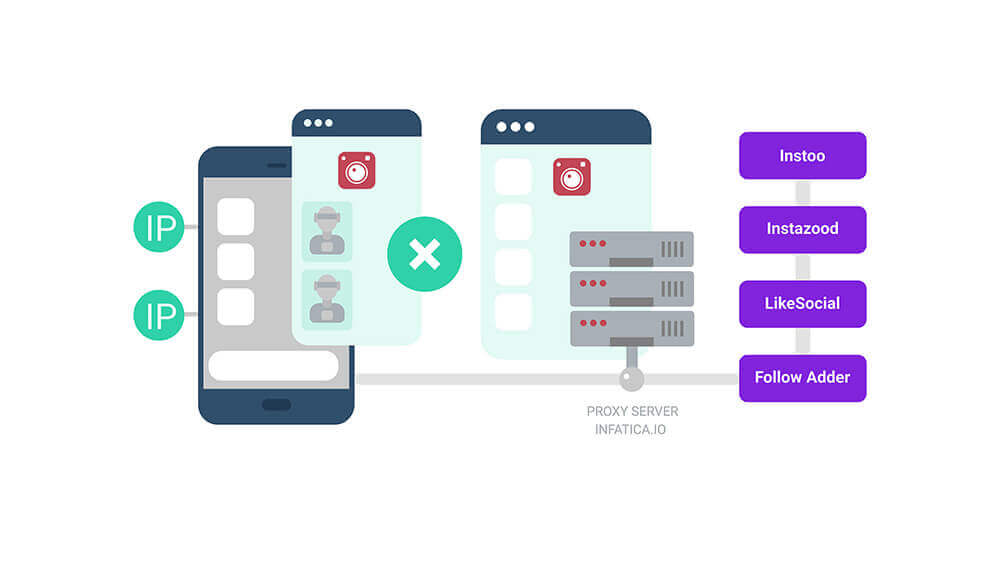 Instagram became a true addiction for many of us. And, of course, because of that, this social media offers brands great opportunities to promote their products and services. There are many smart ways to reach your target audience on Instagram. But some of them require special tools like proxies.

What are proxies?
A proxy is an IP address that belongs to the real device you can connect to. If you go to Instagram as is, you will be connected to it directly, which means that this platform will see your real IP address and location.

If you use a proxy, you first route your traffic to the remote device, and only then - to Instagram. Thus, the platform will see the IP address of that remote device you're connected to. As a result, your real IP address remains hidden.

Why would you need proxies for Instagram?
There are quite a lot of reasons for that. First of all, many marketing managers use bots to automate posting, liking, commenting, and subscribing. It is kind of cheating, so there is no surprise that Instagram punishes for such activity. Proxies will prevent your IP address from getting blocked. But consider this - don't overdo. If you create a fresh account and start some insane activity, you will be blocked even with a proxy. Be moderate, don't post too many photos or interact with other accounts too much at the beginning.

Another thing Instagram doesn't appreciate is when one user manages over five accounts. And, obviously, marketing managers can work with even more brands simultaneously. You can assign a specific proxy for every account to avoid bans. Then you can continue promoting all the clients without any worries. The same thing works for collage accounts that work like landing pages. Usually, brands create several of them, and they should use proxies to avoid getting blocked.

If several remote specialists are working on one account, Instagram might block it, because users login into it from different IP addresses. Such behavior looks suspicious, and the platform can think someone stole the account. Specialists can use a proxy to connect to Instagram. Then they all will appear to be in the same location.

And finally, access to Instagram might be blocked in your country or office. Then using proxies, you can avoid geo-restrictions and enjoy this social media.

Let's draw a bottom line. You need proxies for Instagram when you:
use bots for promotion;
manage more than five accounts simultaneously;
create collage accounts;
work with remote specialists;
can't access this social media due to geo-restrictions.

Why you should choose Infatica proxies?
Only real residential locations. You will never get blocked for using our proxies.
High speed. Stay safe without any inconveniences.
Create a schedule. Set the connection duration you need.
Rotating addresses. Get a new IP with each request.
Clear pricing. You always know what you pay for.


Infatica works with all popular Instagram bots:
Social Sensei
Instazood
Social Captain
Ingramer
Instagrambotfollower.com
Instoo
Social Steeze
Magic Social
LikeSocial
Follow Adder
RiseSocial
Instato
InstaQ
...and many others.
---